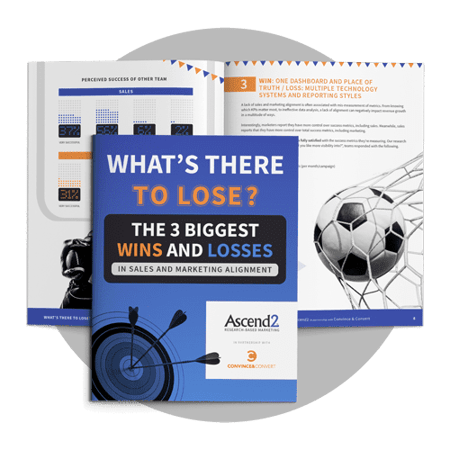 Convince and Convert teamed up with Ascend2 to reveal the great wins and losses of integration, or the lack thereof, between B2B sales and marketing professionals. This survey pulls data from over 300 B2B marketing and sales professionals with 79% of them being at a managerial level or higher.
Whether you are Team Sales or Team Marketing, it's time to break down those silos and work towards building revenue together. There's plenty at stake.
In this eBook, you'll access research and insights explaining:
Why collaboration between salespeople and marketers matters in the workplace.

Five constructive benefits to aligning sales and marketing.

How to overcome the roadblocks to successful "smarketing" alignment.
Download your free eBook
Get the ball rolling with your actionable list of ten expert ways you can ensure your sales and marketing team's integrate successfully.
Grab your no-cost research eBook now!